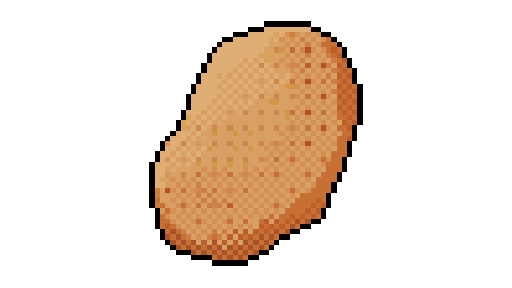 Cosmic Potato Trader Simulator
A downloadable game for Windows and Linux
Cosmic Potato Trader Simulator
A 48 Secret Jam/April and LD41 entry
Welcome, to the Cosmic Potato Trader Simulator!
Can you become rich trading potatoes, one of the rarest materials on the cosmos after the Great War of Whatever (one of the various planets that exist obviously), across the Universe?
You will have buy and sell potatoes with different prices aiming for profit, and meteorites or pirates, that you can dispatch with your Potato Cannon. Beware to not find yourself without potatoes to shoot and sell!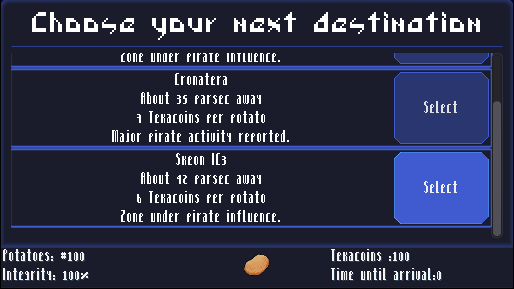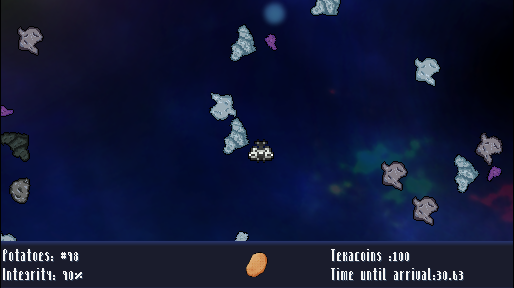 Controls:
WASD keys to move;
Left mouse button to shoot and select options;
Right mouse button to slow down the spaceship.
Software used:
Godot Engine;
Krita;
GIMP;
BFXR;
Bosca Ceoil;
This is a strange game, sure. The themes I had were "Potato" and "Asteroid" by the 48 Secret Jam, and "Combine 2 Incompatible Genres" by the LD41 (I combinated a Shoot-Em-Up with a Commerce Simulator I guess).

Why I participated both jams? Well, I'm a undergratuate guy, and have lots of stuff to do. Joining jams is not one of them. But since I like fiddling with game development, I might as well make a single game for two jams, to save time, you know.
Download
Click download now to get access to the following files:
cpts_source_code.zip
16 MB